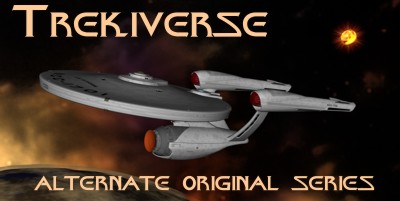 Welcome to the Trekiverse Archive of Star Trek Fan Fiction!
About the Archive
The Trekiverse Archive is an archive of Star Trek Fanfiction originally posted to the newsgroups
alt.startrek.creative
, its sub-groups
alt.startrek.creative.all-ages
, and
alt.startrek.creative.erotica.moderated
and occasional submissions. It was established in 1991 as the Alt.StarTrek.Creative Archive and has been continuiously maintained and updated (if sporadically) ever since.
Within these pages, you will find fanfiction inspired by all 5 aired Star Trek Series (Original Series, Next Generation, Deep Space Nine, Voyager, and Enterprise.) You will also find author- created series (commonly referred to as OCC or Original Captain and Crew), crossovers, as well as a few hard-to-describe pieces we just couldn't place.
The Archive Team holds no bias in regard to quality, ratings, or content in archiving. The team does ask that you always be courteous to the authors. Some e-mails on stories are very dated, due to authors moving on in the 22 years in which this archive has been functioning in some form. Please do not attempt to download the full archive in one night.
Disclaimer
Trekiverse is an archive of Star Trek Fan Fiction. The Star Trek Universe is owned by Paramount Pictures, a division of Viacom. All Star Trek copyrights belong to them. Only the ideas contained within the works in the archive are the property of their authors. This is a free site maintained by volunteers. No profit was earned by the writers nor site maintainers.